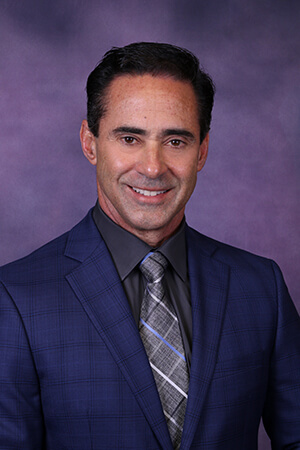 Eye Doctor in Tampa
I am Tampa grown but not from birth. I was born in Cuba and my parents gave up their professions to escape the oppressive Cuban regime when I was 2 years old. Like many Cuban families, we lived in many places before settling in Tampa. At that young age of 10, my Tampa roots began to take hold. I am proud to have graduated from Jesuit High School and then attended the University of South Florida for both undergraduate studies and medical school. I obtained my Ophthalmology training at the world-renowned and number one ranked Bascolm Palmer Eye Institute at the University of Miami.
Even though I had the opportunity to practice anywhere with the ophthalmology training I received, I knew I would be returning to Tampa. In 1994, I began to establish myself and earn the reputation in both the American and Spanish community as a superbly qualified and honest ophthalmologist. From the outset, I held the patient's best interest as my primary motivation; often taking a conservative approach rather than always suggesting surgery to maximize financial reward. In December 1999, I established Prado Vision and Lasik Center. I am humbled to have been chosen by so many thousands of patients to have their ophthalmic care at our center. With the addition of the best physicians and staff, we have continued to provide the same outstanding and honest care that formed the foundation for our practice.
I have been married to my wife, Lynne, since 1990. We have three amazing children who have achieved and succeeded in three very different professions. My oldest, Dominic, has chosen to follow my lead. He graduated from The University of Kentucky College of Medicine and is now undergoing his ophthalmology residency at Wake Forest University. He will hopefully join our practice and carry it forward into the future alongside our current physicians. My daughter, Alexandra, discovered her love of veterinary science at Johns Hopkins University. She has graduated from the prestigious Cornell University School of Veterinary Medicine and plans to pursue a career in primate veterinary medicine. Jordan is my youngest. He received an appointment to The United States Air Force Academy where he graduated with a Computer Engineering degree and was selected to become an Air Force pilot. After completing his Uniformed Pilot Training, he was selected to be a Pilot Instructor at Vance Air Force Base in Oklahoma. He is married to Susan, who is also an Air Force pilot on the KC-135 refueling tanker. After his current assignment, Jordan will also become a KC-135 pilot and hopes to one day be assigned to MacDill Air Force Base.
I am certainly proud of my professional accomplishments, but some of my most memorable moments have been outside of medicine. I started running as part of my rehab after my ACL reconstruction. This led to a few races and eventually to the sport of triathlons. I trained feverishly and qualified for the National championships on several occasions but swimming proved to be my nemesis. In 2014 I switched to Duathlons (run/bike/run) so no more swimming. This proved to be a good decision. From 2015 to 2018 I achieved All American status in my age group, was ranked 1st in Florida, and was a member of Team USA for the four years. I competed in Duathlon World Championships in Canada, Denmark, and twice in Spain with my personal best of 12th place in Canada. I was fortunate to meet many outstanding teammates from the US and many other countries. Wearing that Team USA uniform and representing this country that gave me so many opportunities has been one of the highlights of my life. The year 2020 brought many changes due to COVID. With no races, I started training in CrossFit and found a new passion. After only a year, I am currently ranked in the top 50 in the world for my age group. With continued training and dedication, I hope to qualify for the CrossFit Games next year which is reserved for only the top 20 athletes in the world.
Not to be outdone or overshadowed by me or our children, my wife has had similar achievements but in a completely different arena. Lynne is an exceptional Neonatal Intensive Care Nurse. She transitioned from this field to be my Practice Administrator many years ago but soon realized that our children required more of her attention. Once they graduated from high school, she discovered her passion as a dressage equestrian despite never having ridden a horse. In a few months she was competing and steadily moving up the levels with Silverado, our first horse. Then came San Paulo, our second horse, who she has trained for two years and risen to the elite dressage levels. Lynne has won as Grand Champion, has qualified for the Regional Championships numerous times, and aspires to reach the Grand Prix Olympic level within the next several years and compete at the National Championships in Kentucky.
I have truly been blessed. I have achieved The American Dream. Experiences in my life, both in medicine and other endeavors, have shaped me as a physician, a husband, a father, and a man. With the help of our dedicated physicians and staff, I am privileged to continue to provide the best possible ophthalmic care to our Tampa Bay community.