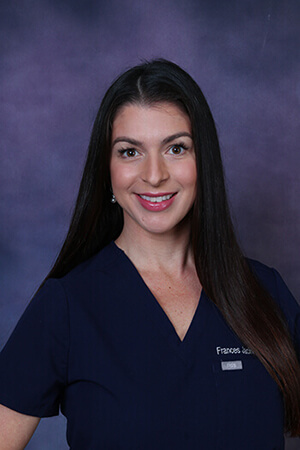 Eye Doctor in Tampa
Fellowship Trained Oculofacial Plastic & Reconstructive Surgeon
Dr. Frances Jacinto Acosta is one of the foremost ophthalmologists practicing today and is a vital asset to the Prado Vision team. Her areas of specialty include cosmetic and functional eyelid surgery, tear duct surgery, cataract surgery, diabetic eye diseases, glaucoma, and macular degeneration. She is board certified by the American Board of Ophthalmology, and is actively involved in the community as a board member of the Tampa Bay Latin American Medical Society and Tampa Bay Ophthalmological Society.
FDr. Frances Jacinto Acosta finished Summa Cum Laude at Universidad Central del Caribe School of Medicine in Bayamon, Puerto Rico. She then completed an internship at Henry Ford Hospital in Detroit, Michigan, an Ophthalmology Residency at the University of South Florida, and an Ophthalmic Plastic and Reconstructive Surgery Fellowship at James A. Haley Veterans' Hospital in Tampa, Florida.
Dr. Frances Jacinto Acosta is a fully bilingual first generation Cuban American that loves dancing to salsa music. Her personal interests include spending time with family, especially her husband and son. She loves the beach, cycling, baseball, and football. She shares our philosophy of treating patients as family, and is committed to providing expert and compassionate care to our patients.